Munich RE today presented a global perspective to natural disaster losses for insurances in 2021. The company puts the total losses from natural catastrophes at around 246.1 billion euros. Hurricane Ida in the USA alone accounted for around 32 billion euros in insured losses. In Europe, Munich RE assumes losses of around 47.6 billion euros for the floods in July, of which 11.5 billion euros were insured. For Germany, 2021 was a record breaking year in terms of natural disaster losses according to German Insurance Association (Gesamtverband der Deutschen Versicherungswirtschaft e.V. – GDV).
Loss events 2021 worldwide
Natural disasters account for overall losses of around 246.1 billion euros in 2021. The US was mainly hit by meteorological events such as winter storm Uri in February, Hurricane Ida at the end of August and a series of severe Tornados in December. Other deadly tropical storms were Typhoon Rai devastating the Philippines in December and Cyclone Seroja crossing Indonesia. In Europe the most damaging event were the floods in Central Europe in July. This marked also the costliest flooding event worldwide in 2021. The earthquake in Haiti on 14 August claimed the most lives last year as a single event. It killed 2248 people.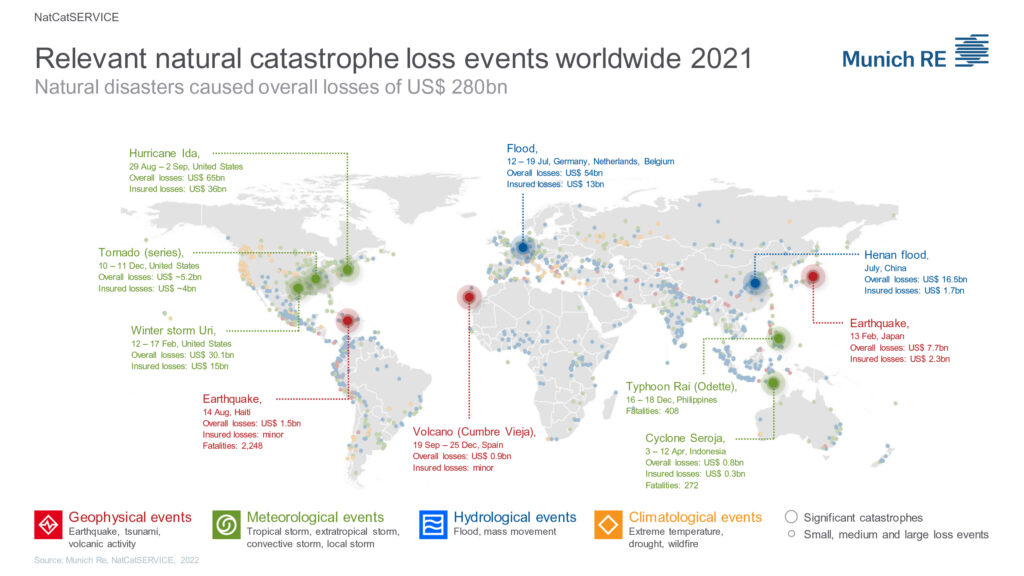 Hurricane Ida most damaging severe weather event in 2021
Hurricane Ida formed from a tropical wave in the Caribbean Sea on 23 August 2021 and crossed the western part of Cuba as a force 2 hurricane on 27 August. The hurricane then strengthened further over the Gulf of Mexico and reached the US coast near Louisiana on 29 August. It was reminiscent of Hurricane Katrina, which devastated New Orleans 16 years to the day. Ida then weakened over land and finally moved over the northeast of the USA as an extratropical depression. There, too, the weather system caused further damage with flash floods and tornadoes.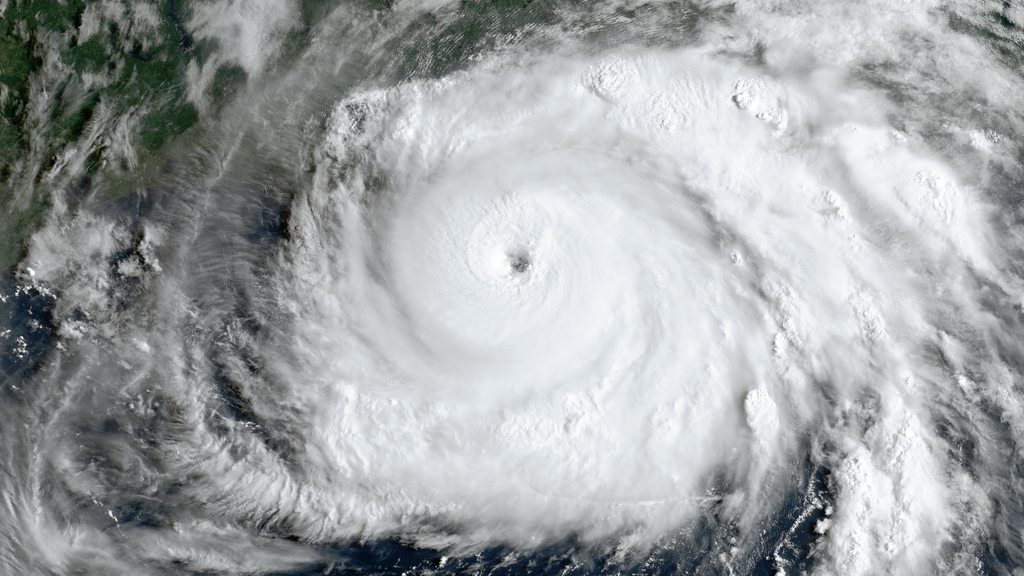 Hurricane Ida was the most damaging natural event in 2021, with total losses of around 57.3 billion euros, of which around 31.7 billion were insured. 115 fatalities are also attributed to the hurricane.
Flood disaster due to low Bernd
The largest natural disaster in Europe this year was the flooding in mid-July which cased damages in Germany, Belgium and the Netherlands. Overall, Munich RE assumes losses for that event of around 47.6 billion euros, of which 11.5 billion euros were insured. Most devastations happened in the German Federal States of North Rhine-Westphalia and Rhineland-Palatinate.
This was triggered by extremely heavy rain or continuous rain in connection with low Bernd. More than 150 mm fell over a relatively large area within 48 hours. The highest measured value in this context was recorded at the Hagen-Holthausen station with 241.3 mm within 22 hours. (see Deutscher Wetterdienst: Hydro-klimatologische Einordnung der Stark- und Dauerniederschläge in Teilen Deutschlands im Zusammenhang mit dem Tiefdruckgebiet "Bernd" vom 12. bis 19. Juli 2021). As a result, numerous rivers burst their banks, most notably the Ahr, causing not only damages of around 8.2 billion euros but also, regrettably, more than 180 deaths.
Record breaking weather related damages in 2021 in Germany
Together with other events such as storms Klaus and Luis this resulted in total insured losses in Germany of approx. 12.5 billion euros which is the highest value ever recorded according to GDV. The damage is divided into storm and hail damage, mainly to buildings and inventory, and motor vehicle damage due to storm, hail, lightning and flooding. Furthermore, elementary damage, i.e. damage to buildings due to other natural hazards besides storm and hail, is listed. Elementary damage also includes damage due to flooding, which currently has to be insured separately.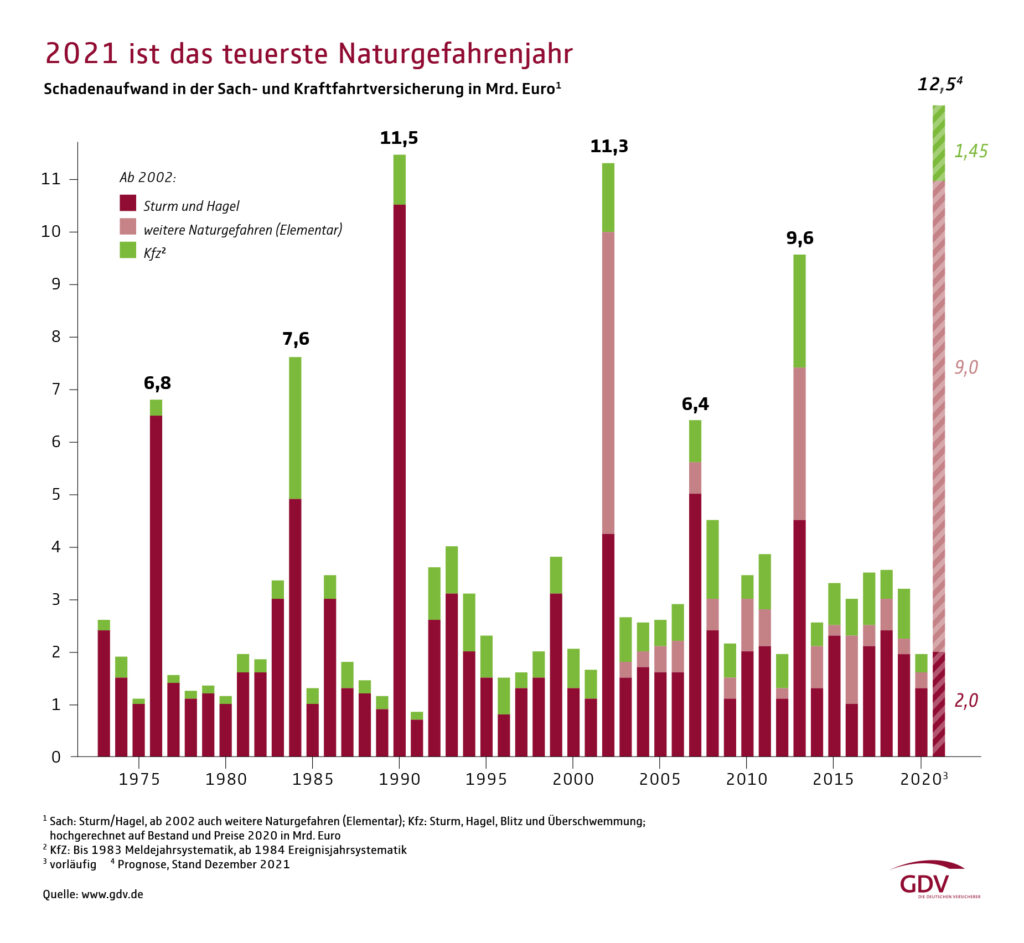 In terms of property damage from storms and hailstorms, last year was more in line with the long-term average at around 2.0 billion euros in Germany. It is far exceeded, for example, by the storm year 1990 (series of storms from Daria to Vivien to Wiebke).
Support in the event of weather-related claims
Convenient weather queries for insurance companies and insurance brokers are made possible by MeteoIQ with its ClaimsMaster tool. For private individuals and many other industries, MeteoArchiv offers direct access to weather reports and historical data. Our severe weather warnings also help to avoid weather-related damage and better manage major loss events.