The German Insurance Association (GDV) today presented a first claims balance for Germany for the year 2019. With EUR 3.2 billion insured losses this year was slightly lower than the long-term average of EUR 3.7 billion.
The claim report is broken down into storm and hail damage in property insurance and weather-related damage in motor insurance. Also included are losses due to natural hazards ("Elementarschäden") such as heavy rain or floods, but also other natural hazards such as earthquakes and landslides.
While the total loss amount in 2019 was similar to the previous year, the details show some differences. For example, the claims expenditure in property insurance was slightly lower than in 2018, while weather-related losses in motor vehicle insurance were around twice as high, at around one billion euros.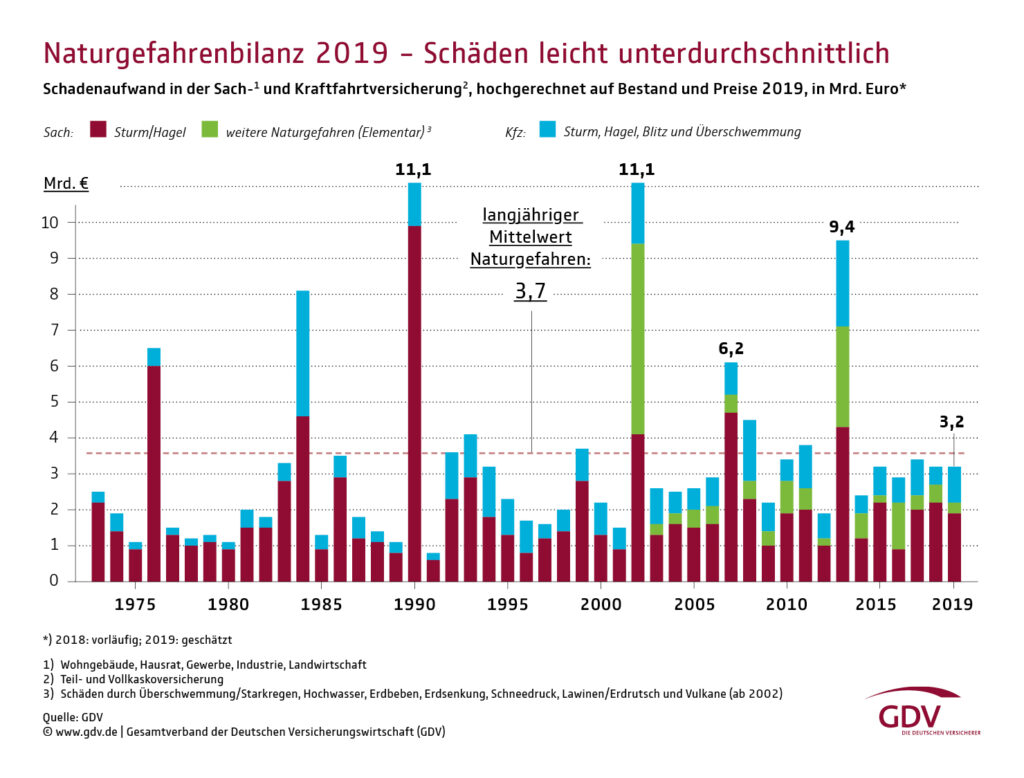 The following weather events were among the largest loss drivers in 2019:
On 9 and 10 March 2019 the storms "Dragi" and "Eberhard" swept across Germany. While "Dragi" on 9 March 2019 mainly affected the north and centre of Germany, "Eberhard" on 10 March 2019 caused damage mainly in the centre and south of the country. For these two storms alone, the total insured losses are estimated at EUR 500 million.
During summer thunderstorms at Whitsun the effects of low pressure system "Jörn" were particularly noticeable. The series of thunderstorms led to losses of around Euro 350 million in motor vehicle insurance alone. According to the Konzern Versicherungskammer, its portfolio was impacted by one of the largest severe weather events of the last 30 years (in German).
Not included in the GDV's report are the effects of the severe drought, which, after the very dry summer of 2018, has also affected large parts of Germany in 2019. The negative effects were particularly noticeable in agriculture and water management. More frequent and more severe forest fires also caused damage in the forestry sector.